ZIVA Rubber Dumbbells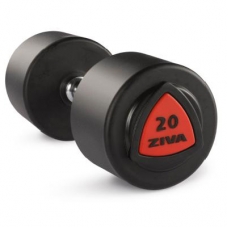 Product Code:
ZIVA Rubber Dumbbells
Original designs utilizing high end technology with egornomically contoured lines. We encase these dumbbells with a durable virgin rubber surface. ZVO evolution series feature precision casting and triple chromed comfortable egornomic grips that stay in the hands with less effort. Urethane endcaps available in different color options for a customized look and feel
ZVO Evolution series rubber products have limited 1 year warranty.
| | |
| --- | --- |
| Order Code | Item Description |
| ZVO-DBRB-2001 | ZVO Series 2-20Kg Rubber Dumbbell Set (10 pairs) |
| ZVO-DBRB-2002 | ZVO Series 12-30Kg Rubber Dumbbell Set (10 pairs) |
| ZVO-DBRB-2003 | ZVO Series 22-30Kg Rubber Dumbbell Set (5 pairs) |
| ZVO-DBRB-2004 | ZVO Series 32-40Kg Rubber Dumbbell Set (5 pairs) |
| ZVO-DBRB-2005 | ZVO Series 42-50Kg Rubber Dumbbell Set (5 pairs) |