FP-9500 Fitness Pro Arc Trainer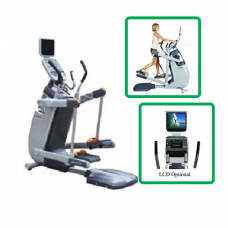 Brand:
Fitness Pro
Product Code:
FP-9500 Fitness Pro Arc Trainer
FEATURES AND BENEFITS
Contralateral arm movement for natural motion arms and leg movements are coordinated, reflecting the way you naturally move through life.
Dual-plane resistance refines workload A patented system that applies resistance to both horizaontal and vertical plances of motion, adding yet another dimension for you to customize your workout.
0 to 27 inch stride length provides unlimited variation. Choose your movement and change it as oftern as your heart and mind desire. Adaptive motion helps create new possibilities and rewards.
Users enoy integrated entertainment. An optional Cardio Theater personal viewing screen is ergonomically integrated into the console that provides users with the entertainment options they demand while keeping them moving in the correct biomechanic position.
Stride dial tracks muscle engagement monitoring your motion in real-time, you get instant feedback on how your muscle respond to different movements.
SPECIFICATION
Length : 74 in (188 cm)
Width : 28 in (71 cm)
Height : 69 in (175 cm)
Weight : 445 lbs (202 kg)
Shipping Weight : 520 lbs (236 kg)
Maximum Stride Length : 27 IN (69 cm)
Maximum Stride Length : Climber motion 0 in (0 cm)
Footplace Dimensions : 14.5 x 7.5 in (37 x 19 cm)
Highest Position Footplace : 18.5 in (47 cm)
Lowest Position Footplace : 5.5 in (14 cm)
Maximum User Weight : 350 lbs
Resistance Level : 1-20 (18-720 watts)
Box Dimensions : 52 in long, 32 in wide, 60 in high
Frame : Powder-coated steel